Title: Tamiya 1/35 Sas Jeep
jimmytka - January 11, 2011 08:05 PM (GMT)
Hi Guys,
Dont know how this kit rate in modeling world, but to me it seems decently nice. Just trying to dry fit it together. Among many others this jeep does appeal to me. So giving it a go-
Do appreciate any feedback or heads-up on amour building. Thanks
Cheers
Jimmy
PoohBear - January 12, 2011 05:37 AM (GMT)
Got this one too. Almost started it several times but the mood just wasn't there. This should be interesting!

BTW, I spy...leftover digital camo masks!
mr b - January 12, 2011 05:40 AM (GMT)
Nice choice/subject

Not an amour expert.........but will be tracking your build.......are the figures part of your build ?

Rgds
Mr b
masterqq - January 12, 2011 06:19 AM (GMT)
QUOTE
Got this one too. Almost started it several times but the mood just wasn't there.


I also got this one too. Also almost started it several times but the mood also just wasn't there too, sigh .... :P

Lando should have this one too...he should be able to advice you on all these pink brit jeeps...
landyshah - January 12, 2011 07:02 AM (GMT)
Ah very niceeee subject Jimmy...good choice...I built this many moons ago. Got another in stash, and Italeri one also

Old skool Tamiya, but good and simple kit. Needs some finer details here and there, eg tubing, racks, straps etc....in fact the instructions suggest it.....give it a shot

Hehe if you dont want those Arab driver, pass to me :D
cptan - January 12, 2011 07:14 AM (GMT)
Ooiii Lando

They are not ARAB lar they r British SAS wearing the keffiyeh (or smagh)....

CPTan
landyshah - January 12, 2011 07:16 AM (GMT)
Haha, i know laaa......but Arab sound nice :lol:
jimmytka - January 12, 2011 08:39 AM (GMT)
Haha busted on the left over masking :)
not too sure if I'm going to do a vignette on this. Sometimes the 'ideas' goes faster then the hand can cope hehe. So focusing on the jeep from now. Yes it does have lots of option on bits n pieces to add.. Scratch build anyone?

And thanks for the cofident buster.

On another note forums or club it's the ppl like you all behind it that makes it relevent.. My 2cents
nitevision92 - January 12, 2011 09:16 AM (GMT)
Interesting!
The SAS configured a few jeeps with a "borrowed" American .50 cal M2 IIRC. Rare but looks badass enough!
Rip a .50 cal M2 machine gun off a Tasca Sherman tank and load it up with supplies, guns and ammo till the suspension breaks!
achee74 - January 12, 2011 11:27 AM (GMT)
Built 2 already. They are considered a bit old as the sprues are from the 70's, I think, but easy and a fast built. But need to upgrade a number of things such as the jerrycans bracket and the .5MG. Can get a bit tricky on the vickers... :rolleyes:
Loo CK - January 12, 2011 11:33 AM (GMT)
You may want to check out the recent issues of Tamiya mags ( not sure if its Military Modelling or the other one ) 2 issues dedicated on the SAS jeeps, variants, colours, etc. There is also reviews and builds on the Swash model resin set which cost a bomb!
seelianglim - January 12, 2011 11:37 AM (GMT)
Aaah..the old SAS jeep. It was re-issued again recently. Dont you love the old Tamiya's instruction sheet. It has got long history and information on the actual vehicle. Compare that with the current crop. With multi lingual , the history portion becomes very short.

This is a good simple kit, but you may wanna substitute the jerry cans (the handles are not correct,me thinks) and add those retaining straps like the pic from nitevision. Also replace the hard camo netting with gauze and u are all set

sllim
jimmytka - January 17, 2011 06:12 AM (GMT)
some updates and web searching..there are indeed some upgrade kits out there to pimp up the ride. And to my naive surprise some of this upgrades cost more then the kit itself..javascript:emoticon(':huh:'). Loo - swash upgrades are nice and thanks for the recommendation of the mag, manage pick one up.
Nitevision the 50 cal on the jeep does look intimidating. Yes planning to put that. The kit comes with one too but going to need some work on it... or i going to have to search aftermarket.
Unfortunately as a newbie I do not have a whole lot of extra stash of accessories laying around.. so going to go mostly whatever comes with the kit. No disrespect to See Liang and Achee for the heads up on the accuracy. Thanks guys..
Am trying out the hair spray technic.. after looking at the impressive outcome by some of the builds you guys done. Thanks for sharing this.
Cheers
Jimmy
supaglue - January 19, 2011 10:01 AM (GMT)
SAS desert raider jeeps are uberkool subjects.
and tamiya's 1/35th scale version has long been a popular kit along with the LRDG Chevy.
unfortunately, it's vintage detaling shows...
it's comes packed with optional parts;
which in the end makes it quite an exceptional kit to build.
an sas jeep fan must also get a hold of italeri's commando car,
http://militarymodels.co.nz/2010/04/22/kit...-commando-jeep/
which represents the WWII ETO british recon jeeps used by the sas and para units.
which interestingly enough had free allied franco-belgian elements operating behind enemylines.
http://www.m201.com/sasjalb.htm
http://www.be4046.eu/SAS.htm
http://bcoy1cpb.pacdat.net/sas.htm
fair warning though, for anyone contemplating to build an sas jeep could be headed for a dangerous life long affair.
assuming that i am not the only sas nut who hasn't stopped fantasizing about owning a fully armed wwii sas jeep to drive around ever since completing that action packed tamiya kit ;-)
achee74 - January 19, 2011 10:35 AM (GMT)
Have to add to your statement Supa....

It is A VERY ADDICTIVE LONG AFFAIR, which could clouds your mind over so many other models especially when u coupled in with the Chevys and the worse is that the Chevys are very hard to find nowadays!~

The hunting of these two vehicles could make one go mad....
( Confession of an addict) :P
jimmytka - March 14, 2011 05:46 PM (GMT)
some updates on the built-
not too sure if I got all the weathering and dirt right, still a long way for me to learn. Appreciate all the tips given.
Next to go up will be bits and pieces..tho the facing some issues sourcing for the 50cal or 30 cal machine gun
Cheers
Jimmy
ahhow - March 15, 2011 12:32 AM (GMT)
IMHO too much chipping and too rust.
But if you want to built it into an abandoned vehicle, the effects is ok.

Hope you don't mind. :P
landyshah - March 15, 2011 01:44 AM (GMT)
Agree with Ah How...your individual effect are nice, but put together it is too much

If you look at pictures of real SAS jeep, they are never in this bad condition. Also, rust in desert is very restrained

Otherwise, good attempt!

My humble 2 sen.
Blackheart - March 15, 2011 02:07 AM (GMT)
Greetings 1Malaysia

Subject: SAS Jeep

Agree with Master Ah How and Master of the Sky Kingdom Landy Shah..too much rust while the vehicle in a good condition..and 1 more thing..it shouldn't be no rust on the steering

Thanks

jimmytka - March 15, 2011 10:39 AM (GMT)
Thanks guys.. Appreciate the feedback. First time doing chipping , rust picments etc and got carried away. Like I said the feedback given I's invaluable.. I won't have seen the 'over the top' other wise.
Wonder if there is still to tone the rusting down at this stage.. ie. filter?

Thanks
seelianglim - March 16, 2011 06:54 AM (GMT)
Jimmy

You know what? you can actually repaint the whole thing again as it doesnt have any decals on.
rtfoe - March 16, 2011 09:40 AM (GMT)
Another way is to mix up a batch of the base colour and touch up the basic main areas. Leave the chipping at the edges.
I would suggest toning down the rusting a lot but leave it on the spade.

Also scrape off the joint mold lines of the jerrycans. Replace them if you have the Italeri jerrycans with the proper three handle bars.

Some jeeps come with black coated steering wheels. The seats are canvas covered so they don't rust. Perhaps you could give it a shade of olive drab to give it a contrast from the body colour.

The bags and straps are good.

Hope this helps.

Cheers,
Sami Rich Loco Rocco
rtfoe - March 16, 2011 09:44 AM (GMT)
Also when you're adding the guns, make sure they're clean. They're always the best kept as they would decide life or death.

Cheers,
Sami Rich Loco Rocco
PoohBear - March 16, 2011 11:18 AM (GMT)
Bumped into one too many cactuses eh.

If you're going to repaint the seat covers, might be interesting to try giving them a bit of worn & faded look.


nitevision92 - March 16, 2011 11:49 AM (GMT)
Looks a bit burnt out to me. If you're feeling lazy, remove everything and make a wreck diorama with German/Italian soldiers standing over their latest kill...
Just my RM0.02
masterqq - March 17, 2011 03:02 AM (GMT)
Or just mist it with a few layers of thinned base color ...until you gat the result you want...
Blackheart - March 17, 2011 03:41 AM (GMT)
Greetings 1Malaysia
Subject : Paint Chipping
At this level you're doing ok
But too heavy at final level..teke your time..you can redo it
Thanks
wuichong - March 18, 2011 10:40 AM (GMT)
I love your chipping paint job very much!!! Make it less and small. You have a perfect job Dude !! Do it what u think is correct and happy, everyone have difference taste......for me if perfect!!
jimmytka - March 25, 2011 05:29 AM (GMT)
Hi guys.. firstly thanks for all the responses.. Really appreciate you guys chipping in to help out this project. Sorry didn't reply any earlier.

So far I have scrape off some of the rust pigments. Maybe I put a few thinned filters next. Lazy me...yes. And It a busy time of the year for me, so I going have to shelf it for now...Going to need a whole lot of focus and the right set of mind to redo things.. at least for me.

Anyway cheers, you guys the are best..

Jimmy
jimmytka - March 30, 2011 04:57 PM (GMT)
some rework and work in progress stuff -
the stearing wheel is some where drying off. still couldnt figure out how to get the worn out canvas/leather chair look... might cover it with figure :D
shaky hands and many hours of readjusting the iris.. still lots to learn
again thanks for all advice given.
Cheers
Jimmy Tan
Blackheart - March 30, 2011 11:26 PM (GMT)
Greetings 1Malaysia
Subject : 50 cal
Correct me if i'm wrong..is it the correct version of 50 cal during that era?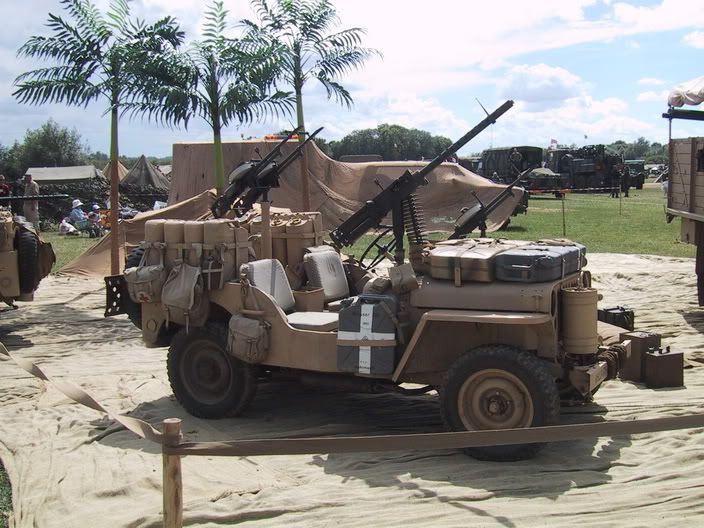 By the look of it you have to change the 50 cal and the mounting.
Thanks
jimmytka - March 31, 2011 06:19 AM (GMT)
nice pic bro, Thanks for the heads up. I was looking for that gun in the pics as well, but due to my limit resources i'm still lost.. but will continue to have a look out for it.

The 50cal on my kit was from an academy M113 vietnam era, I looks better then the 50cal that tamiya provided with the jeep which looks the same as the Academy's only lack in details. Not an expert, I choose it due to the similarity to the tamiya kit with more details.

Thanks bro..

Going to school
Jimmy
jimmytka - April 17, 2011 03:14 PM (GMT)
End product guys.. Calling this the 'Last Crusade'..
Have change out the 50 cal to verlinden after market - very detail. Add in the figure.
Definately learn a lot from this project - and this is because of all the great feedbacks from you all.
Thanks all
Jimmy tan
Loo CK - April 24, 2011 01:29 PM (GMT)
Jimmy,
missed the finished product.
Good attempt overall but I can't help seeing some glossiness here and there on the figures which shouldn't be there, or it could be the picture contrast?. Any chance you are going to matt it down a bit?
Pete - July 5, 2011 08:58 PM (GMT)
Hi All,
I've enjoyed reading your posts and seeing some great models. I hope I can do just as good a job.
I'm looking for some help. I recently bought the 1/35 scale Tamiya SAS Jeep off ebay but unfortunately the instructions are all in Japanese, which are no good to me. Would anyone be able to email me a set of instructions in English? I would be very grateful as although I might be able to muddle through with the build, the paint codes are also in Japanese.

Hope you can help. Many Thanks.
jimmytka - July 7, 2011 03:43 AM (GMT)
Hi Pete,

My kit comes wit an English ver instruction. I'm current outstation. I will see what I can do to help when I get back. Am sure the instruction is sitting somewhere at home. Do you have a email?

Loo,
Thanks, sorry if it comes late. Didn't catch up on my tread till now.. My bad. on the figure I did put a few coats of matt clear after I oil paint it. Still lots to learn here.

Best
Jimmy
Pete - July 8, 2011 03:08 PM (GMT)
Hi Jimmy

Thanks for getting back to me. My email is p.szarvas@fsmail.net
It would be great if you could send me a copy of the instructions, in English of course.
It's been a long time since I did a model so I'll be using your build as inspiration for mine.

Many Thanks.